PLAN YOUR VISIT TO RABBIT ISLAND;
THE MYSTERIOUS ENCLAVE OF 1,000 RABBITS
OFF THE COAST OF HIROSHIMA, JAPAN.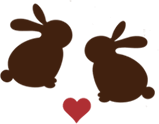 ■Located in eastern Hiroshima, Rabbit Island is a small enclave occupied by hundreds of wild rabbits that roam the forests and fields, chasing tourists for food. Only a 15-minute ferry ride from the mainland, the island is a popular destination for tourists from around the world.
Rabbits are usually surrounded by their large families and are known for their high fertility rate.
For these reasons, rabbits are often considered
a symbol of safe childbirth and the blessings of many children. Rabbit Island, the home of over 1,000 rabbits, is known as a place to seek good
fortune for your own family's fertility. ■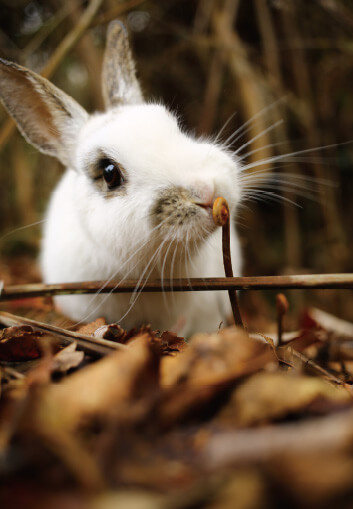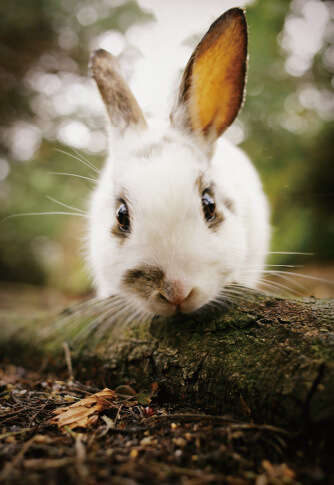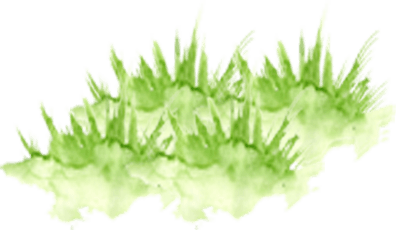 ITINERARY MAPS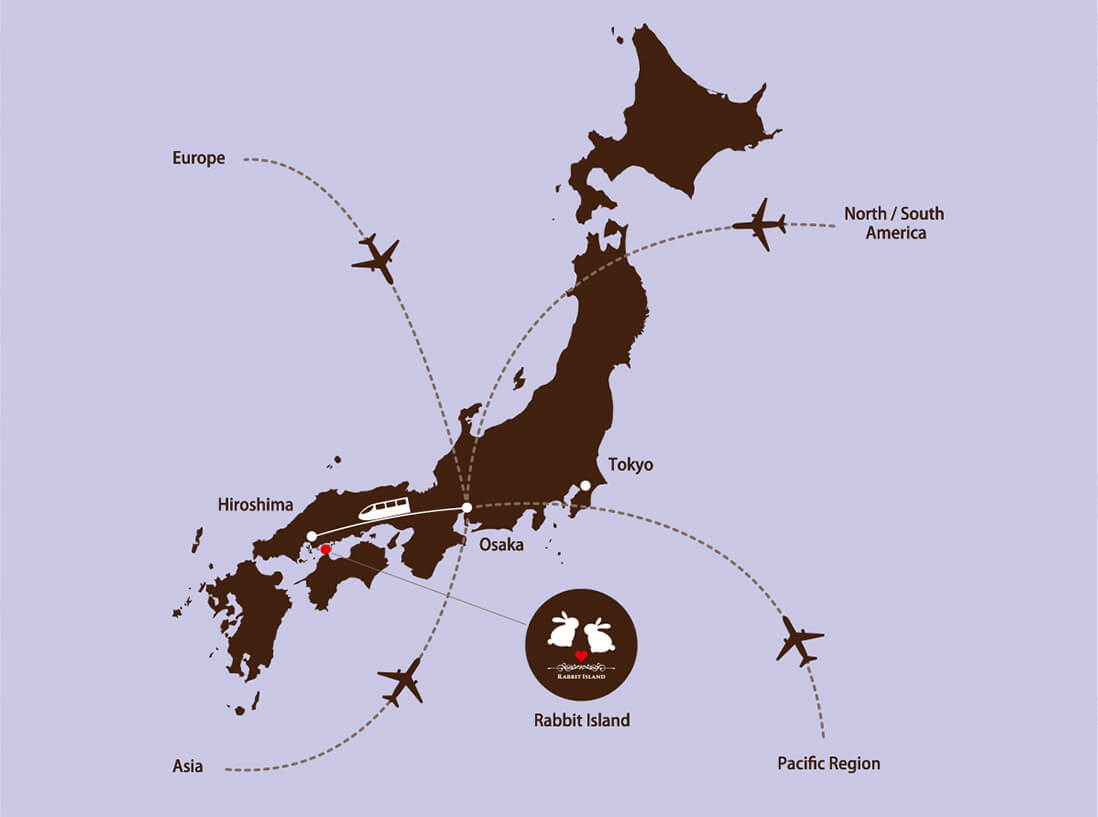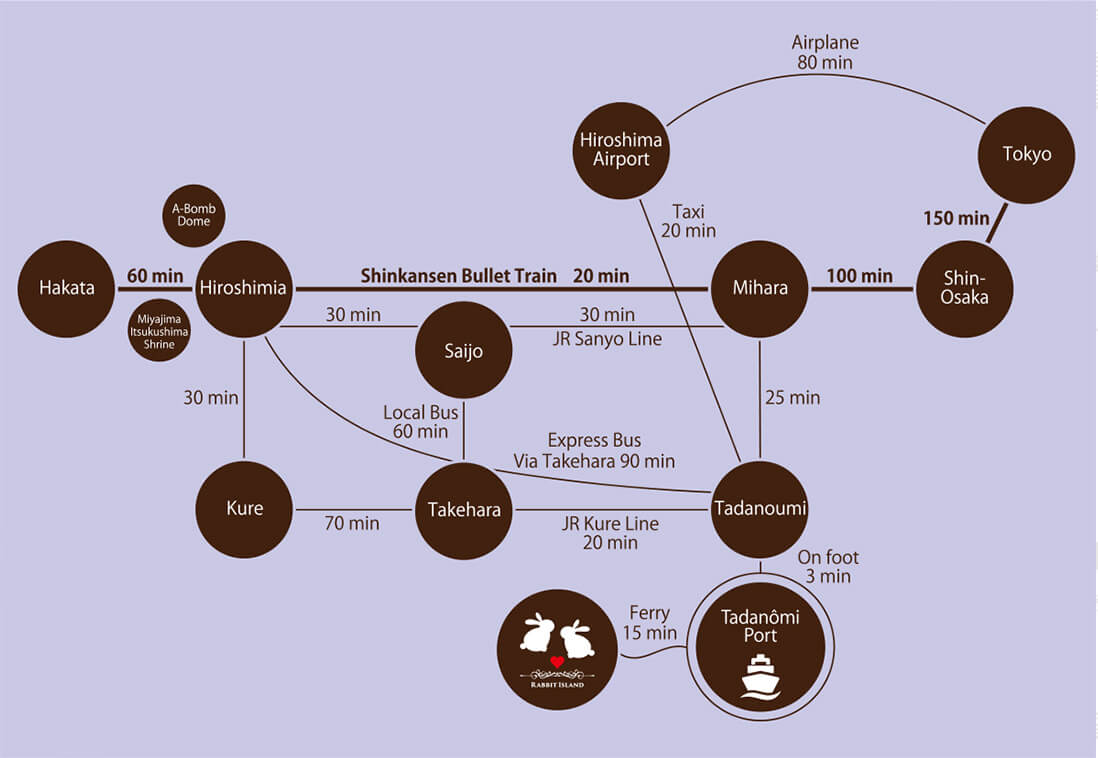 FASTEST AND MOST FREQUENT ACCESS TO RABBIT ISLAND
■Rabbit Island is a 15-minute ferry ride from Tadanômi Port with services leaving roughly every 30 - 45 minutes. The port is a 3-minute walk from Tadanoumi JR Station, which is a 25-minute train ride from Mihara Station on the magnificent coastal JR Kure Line.
This ride itself is worth the trip, with stunning views of the Inland Sea and its many islands.
■ All Kodama Shinkansen Super Express coming from both Hiroshima and Osaka stops at Mihara Station. It takes about 20 minutes from Hiroshima and less than 2 hours from Osaka to reach Mihara Station.
■ The Kaguyahime Highway Bus Service is also available directly to Tadanoumi JR Station, which operates from Hiroshima Bus Center via Hiroshima Station.
■ If you plan to stay overnight, advance hotel reservation is advised as accommodation is limited around the area. The hotel on the island is not always available for last-minute visitors, especially during high seasons.
■ Japan Rail Pass accepted up to Tadanoumi JR Station but not for ferry services.
■ Cash (JPY) only.
FERRY TIMETABLE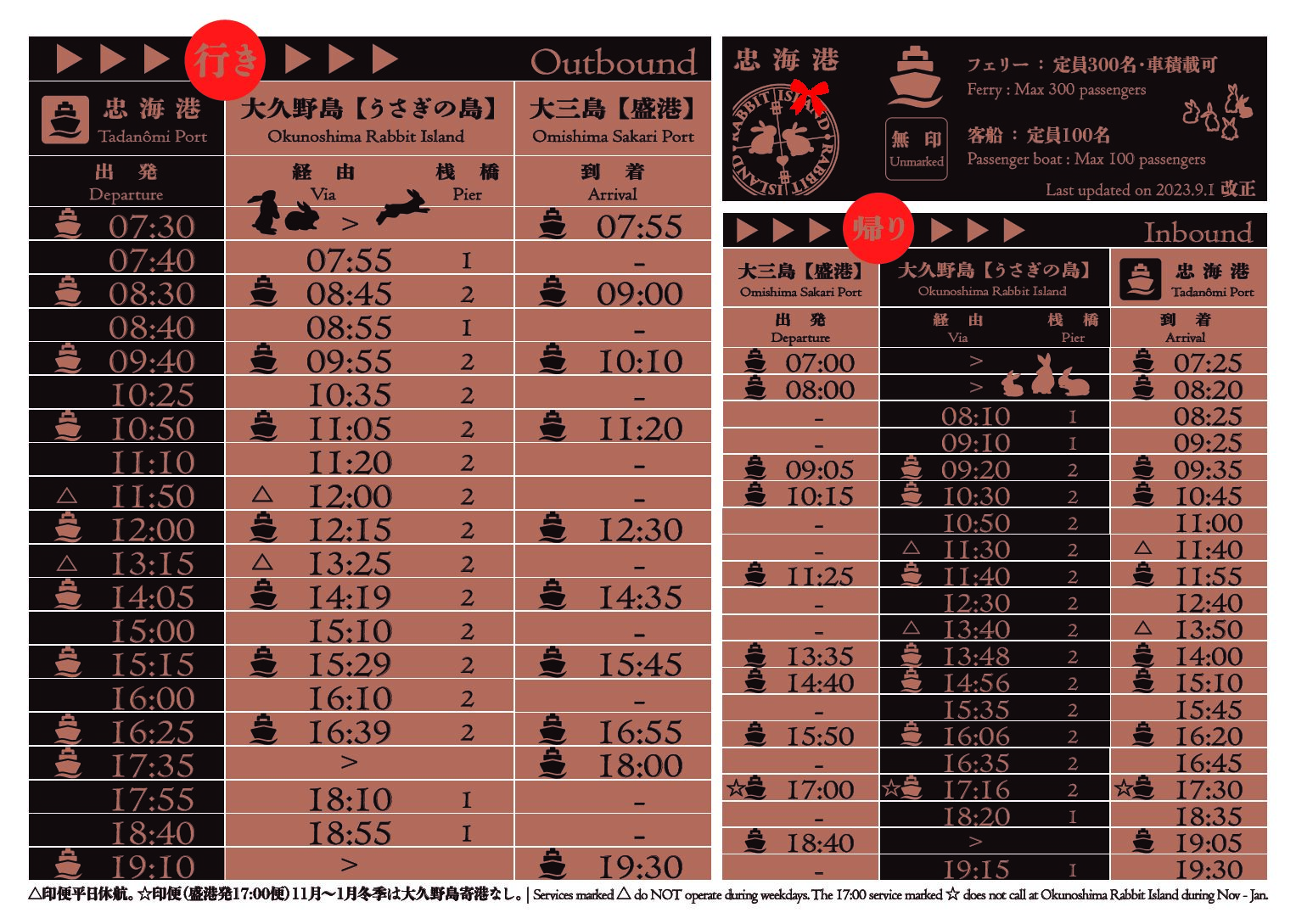 FERRY FARES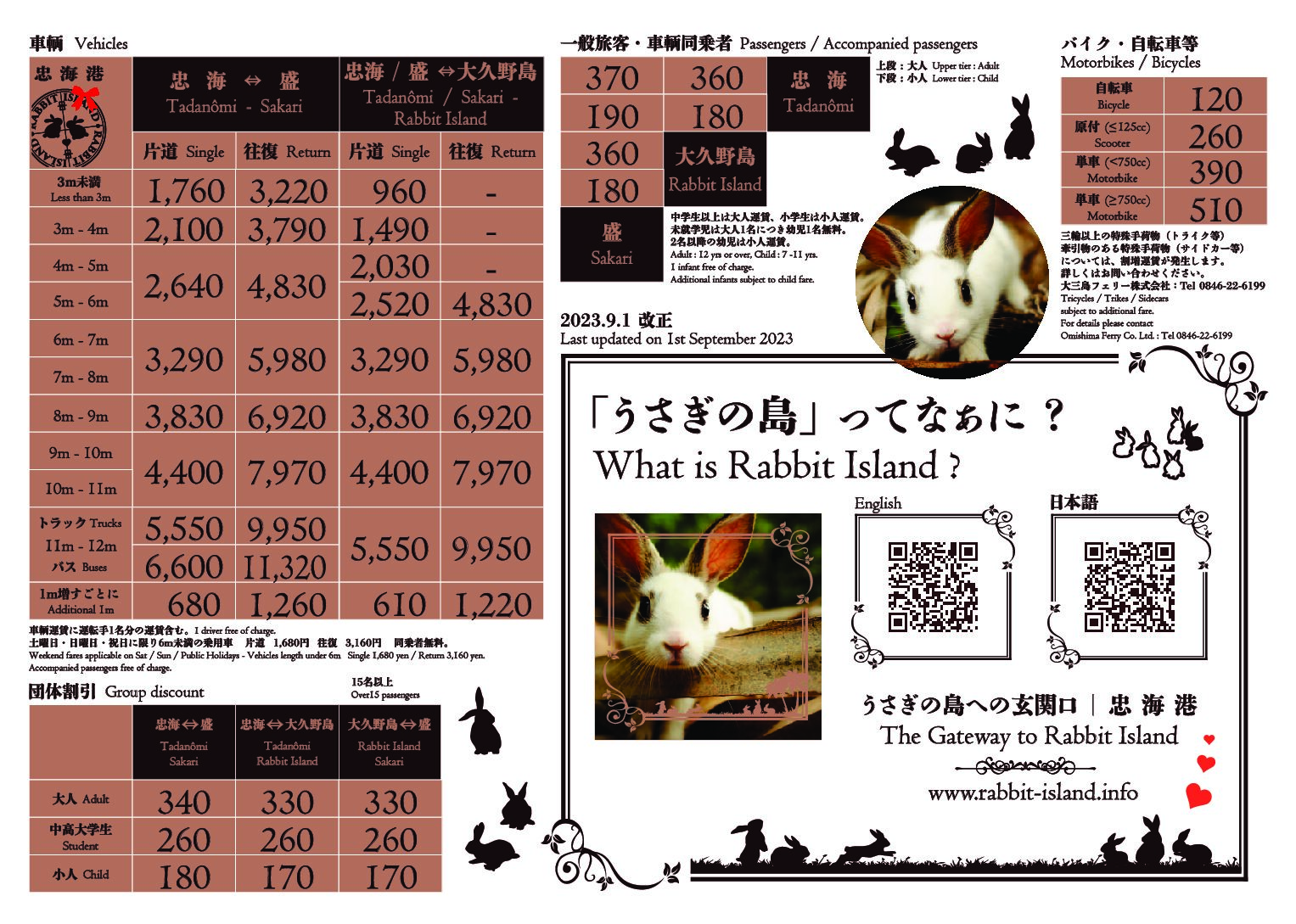 SHORT-TERM LUGGAGE KEEPING SERVICE
■ A short-term luggage keeping service is available for your Rabbit Island trip.
500 yen per bag / day.
Open during ferry operating hours, 365 days. a year.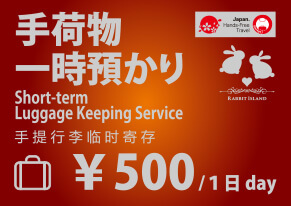 FREE PUBLIC WI-FI AVAILABLE
■ Free public Wi-Fi is available at the port.
You need to register with
an email address.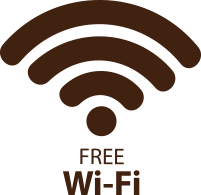 DO NOT HOLD RABBITS
IN YOUR ARMS
OR CHASE THEM
■ Rabbits are usually afraid of being held;
they will struggle to escape. Living in the wild means they have no access to vets in case of injury, therefore it is crucial they are left alone to minimise the risk of getting hurt. ■
DO NOT FEED
RABBITS ON ROADS
■ Roads are busy with bicycles; while eating, rabbits are usually too focused and do not notice incoming traffic.
By trying to escape at the last moment, they may run crash into bicycles or even vehicles. ■
DO NOT LEAVE
RABBIT FOOD
LEFTOVERS
■ Rabbits do not eat dampened pellets or spoiled vegetables. These attract crows which interfere with rabbits.
Also, leaving rabbit food near their nest means leaking the whereabouts of baby rabbits to their predators. ■
DO NOT FEED RABBITS
WITH HUMAN FOOD
■ Rabbits will become ill by eating our food
such as bread or snacks. Also, rabbits cannot digest potatoes. ■
DO NOT RIDE
BICYCLES
RECKLESSLY
■ While eating food, rabbits are usually too focused. By trying to escape at the last moment, they may run towards you. ■
DO NOT TAKE
RABBITS HOME
■ By the Wildlife Protection and Hunting Law, prior permission is needed from the Ministry of Environment to capture wild animals. Also, you may incur expensive treatment fees later on as some rabbits may carry parasites or other diseases. ■
DO NOT TAKE YOUR
OWN RABBITS AND
ABANDON THEM
■ Rabbits which have been kept as a pet cannot survive on the island. Rabbits are strongly territorial and will get bullied and beaten by local rabbits. ■
DO NOT FORGET
TO CHECK UNDER
YOUR CAR
■ For rabbits, under the car can be
an ideal place to hide from the direct sun and their predators. Please make sure to check under your car as they may stay even after starting the engine. ■
PLEASE REFILL WATER PANS
■ Water is scarce on the island, especially around the hotel. Please refill the water pans around the island wherever possible. Rabbits living up on the hillside can feed off natural springs, however, for those around the hotel these pans are crucial for their survival. ■
PLEASE QUIETLY WATCH
OVER THE RABBITS
■ Please quietly watch over the rabbits and DO share your photos online.
Let the world know about this mysterious enclave, Rabbit Island !! ■

A DAY TRIP TO THE ISLAND IS FUN ENOUGH, BUT STAYING OVERNIGHT CAN GIVE YOU
THE CHANCE TO FULLY EXPLORE THE ISLAND, INCLUDING ITS DARK HISTORY.
■Being the center of chemical weapons research and production during WWII, Rabbit Island was completely "erased" from the map and workers on the island were sworn to secrecy. With its picturesque scenery of the Inland Sea, the island is now a National Park Resort and welcomes tourists from all around the world. Some say that rabbits were released onto the island after the war to spot signs of poison gas leaks, just as caged birds were dropped down into constructing wells to see carbon dioxide concentrations back in the day. ■

■Afree shuttle bus or a 15-minute walk will take you to the National Park Resort Hotel on the island, where there are many rabbits welcoming tourists. Of course, many rabbits can be seen on the way to the hotel, and the sidewalk along the shore is spectacular. ■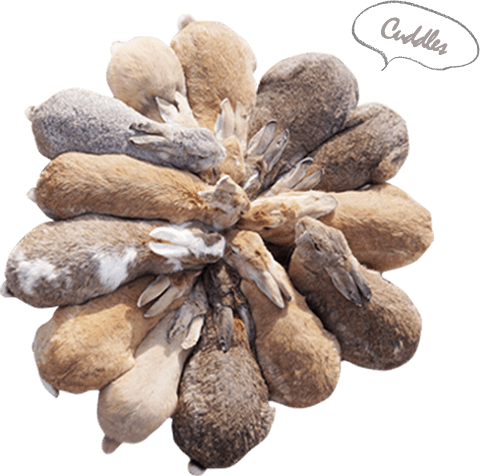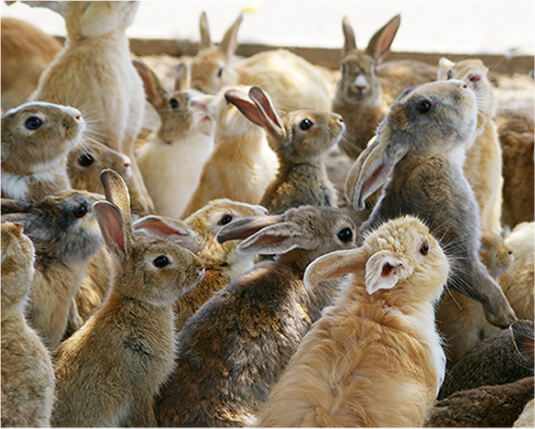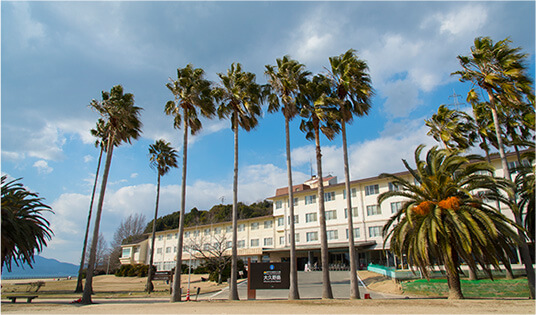 THE NATIONAL PARK RESORT HOTEL
■The only Resort Hotel on the island, where you can dine on local delicacies. A hot spring is available with towels available for visitors to rent. You can also rent a bicycle and fully explore the island using its bicycle track running along the 4km perimeter. ■
■ For details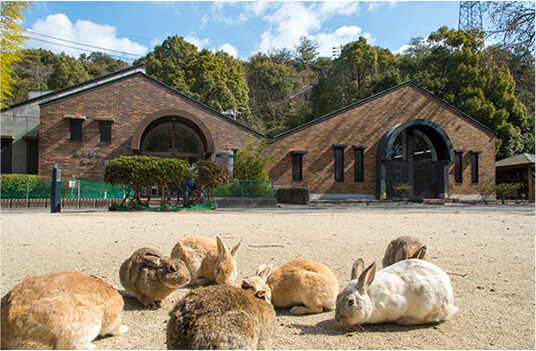 THE POISON GAS MUSEUM
■Adorable rabbits and the dark history of the island ---
the two antithesis give the island a more mysterious touch.
Being the center of chemical weapons research and production until 1945 under complete secrecy, the island now offers a museum which displays and preserves memory of the cruel aspects of Japan's WWII history.
Tadanômi Port was extraterritorial during the war, being the only departing port to reach the island. It is said that the thick historical wall besides the ticketing office at Tadanômi Port separated the port from the mainland during WWII. ■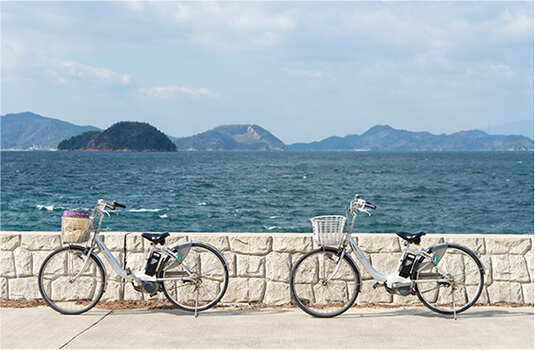 ■ Bicycles for rent on the island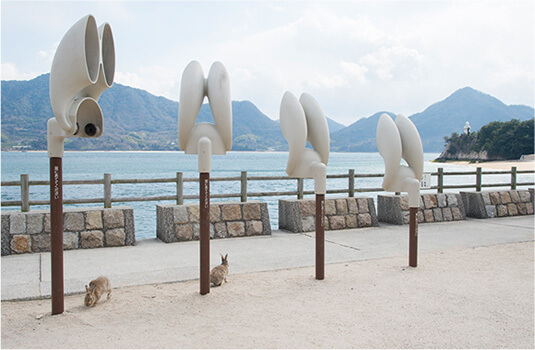 ■ Rabbit objet d'art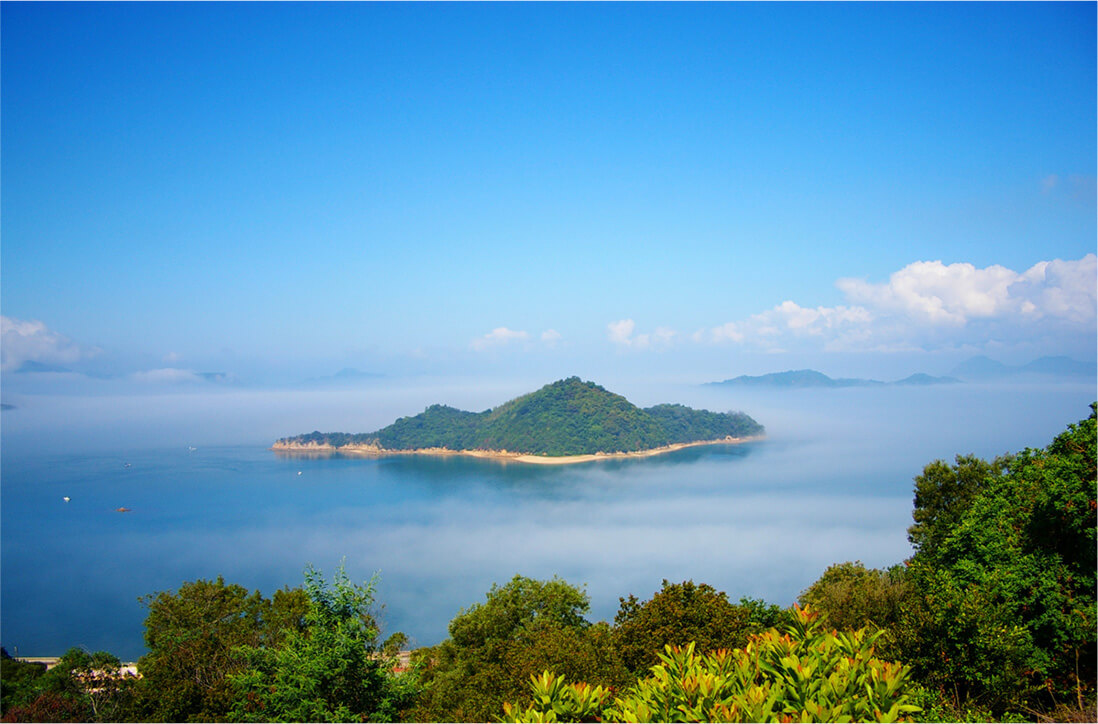 ■With several different walking trails along the coast and into the mountain, you can enjoy hiking along with other outdoor activities all year around. You can of course swim in the sea during summer seasons.
Please note that there is only one restaurant operating on the island along with a coffee shop. Bringing your own food is advised during peak seasons. Plenty of snacks and drinks are sold at the hotel. ■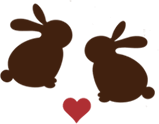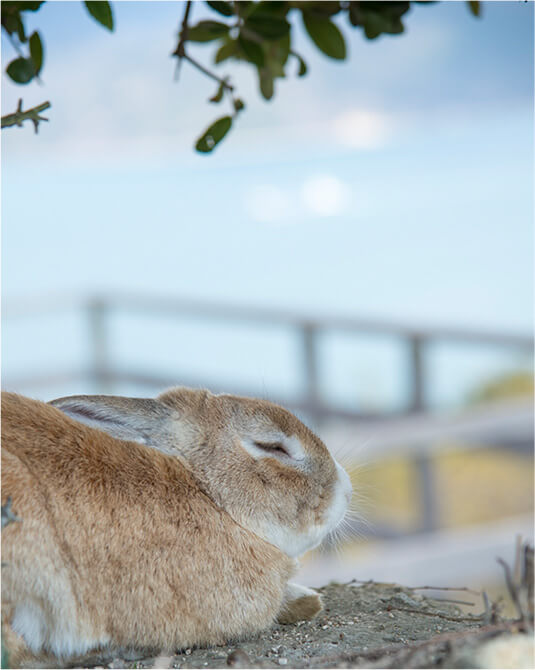 ■ A pondering rabbit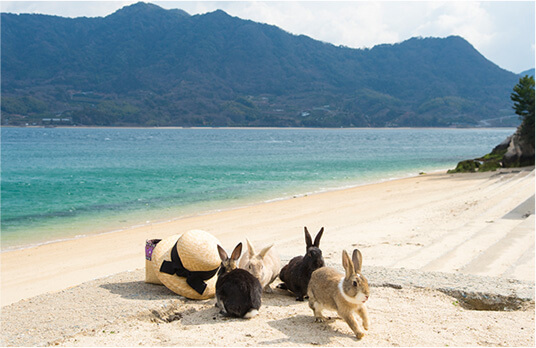 RABBITS GATHERING AT THE BEACH
■ A 5-minute walk away from the hotel is the bathing beach. Shower rooms and snack booths are available during summer seasons. ■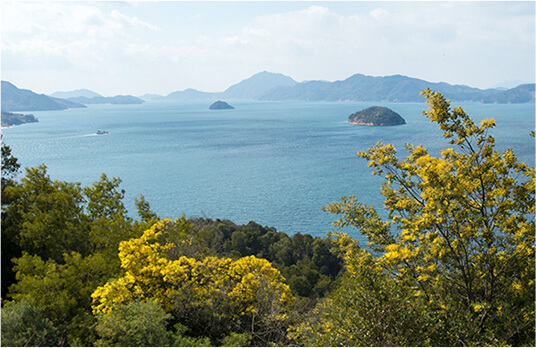 360-DEGREE PANORAMIC OCEAN VIEW
■ The summit of Rabbit Island is well known for its 360-degree panoramic ocean view. The view is one of a kind with small islands constituting layers one after another. You can take the trailhead between the campsite and the visitor center to reach the summit. ■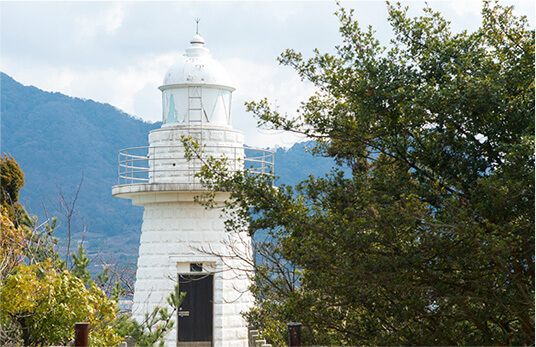 ■ Lighthouse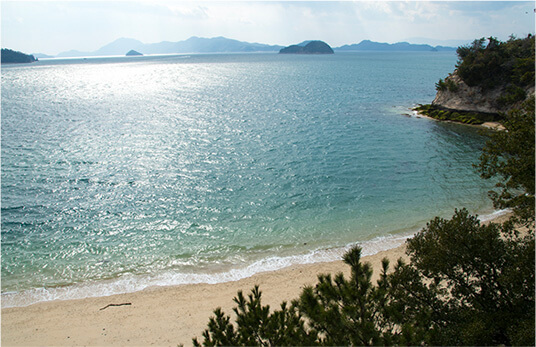 ■ Scenic ocean view from the lighthouse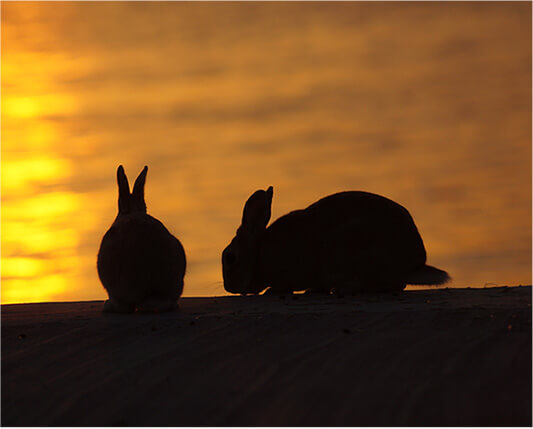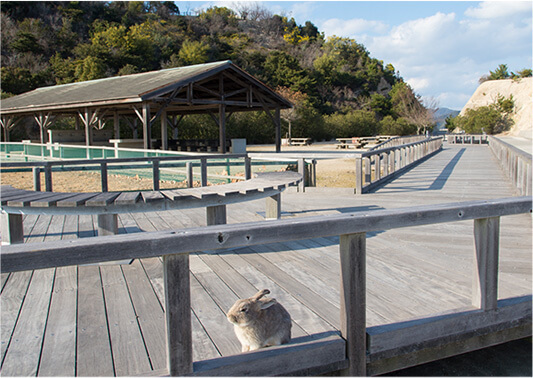 ■ Campsite by the sea
CAMP SITE
■ With its magnificent ocean view, the campsite can accommodate about 10 groups. ■

■As rabbits are nocturnal, they are most active during early morning and late in the evening. With overnight stays, you can observe their activities during the night, while fully enjoying the night sky away from artificial lights. In Japan, legend has it that at full moon you can see a figure of a rabbit pounding mochi rice cakes on the surface. ■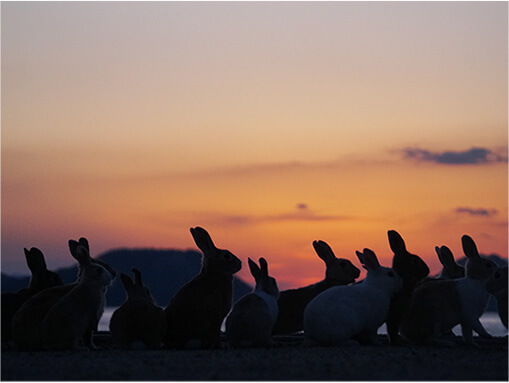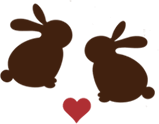 HOT SPRING
■ The hot spring is available at the hotel with towels available for visitors to rent. The water is said to have fatigue-relieving compositions. ■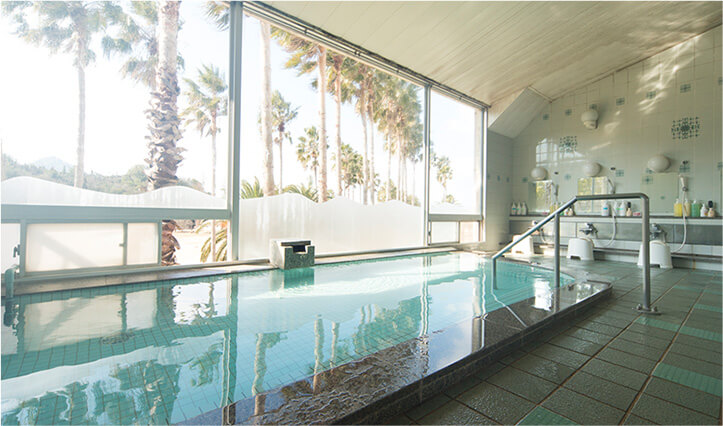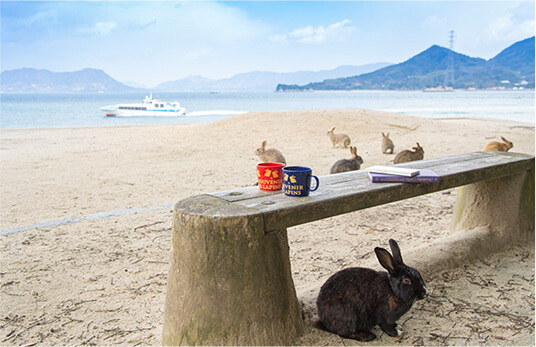 ■ Spending the afternoon reading a book by the beach with rabbits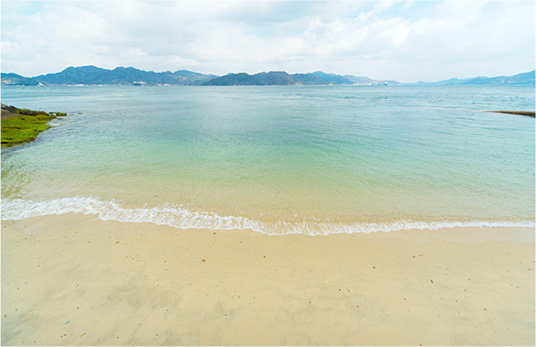 ■ A day on the island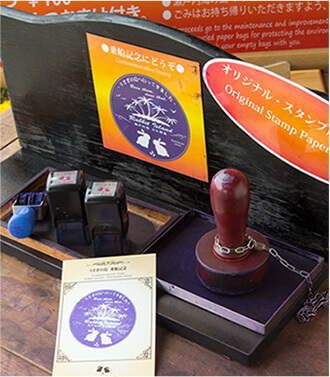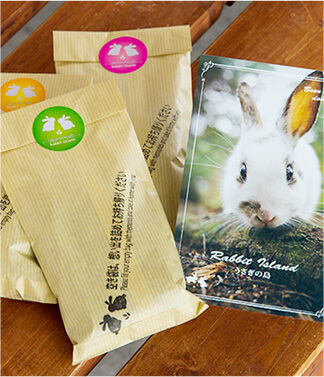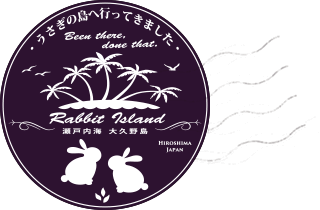 ■An original commemorative rabbit stamp is available at the port. We offer free original postcards to stamp on in exchange for the empty bags of our rabbit food purchased at the port. ■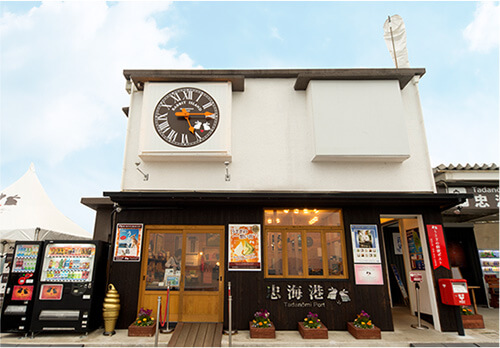 ■Serving as a reference for departing ferry services,
a 2-meter rabbit wall clock is installed at the port.
The color of the letters change according to the weather, reflecting the colors of the sky.
Photos of this clock is popular with travel bloggers and writers.
By the way, can you guess why the rabbits are at 4 o'clock? ■

■ Hint: it relates to the twelve horary signs of time.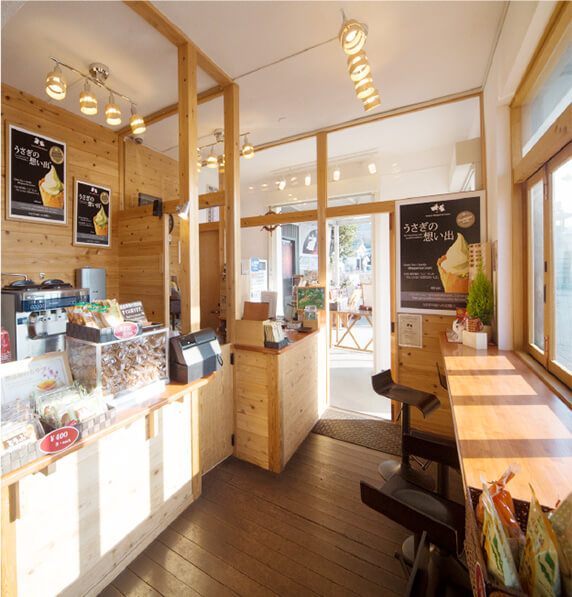 RABBIT CAFÉ & GIFT SHOP
■Waiting for the ferry is a bliss with Whipped Ice Cream at ocean view Rabbit Café.
We offer takeaway coffee, snacks and lunch boxes.
Original rabbit items are available at the port gift shop.
Open 7:00 – 19:45 / 365 days a year. ■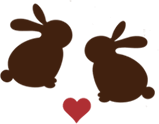 ■ Tadanômi Port Management
1-2-1, Tadanoumi, Takehara, Hiroshima, 729-2316, Japan
Tel. + 81 (0) 846 26 0853
English speakers occasionally available upon request.

RABBIT ISLAND WHIPPED ICE CREAM

■ Matcha / Vanilla / Mixed. No artificial additives within the cream.

RABBIT MUGS

■ Mugs with a rabbit silhouette,"Memories of Rabbit Island" written in French. Made in Japan.

RABBIT TOTE BAGS

■ Rabbit tote bags with a stainless-steel medal curved out in rabbit silhouette.

RABBIT KEY CHAINS

■ Genuine Italian and Japanese leather.
Made in Japan.

RABBIT LETTER SETS

■ Original set of postage stamps / envelopes / letter papers. A postbox is available at the port.

RABBIT STICKY NOTES

■ Original sticky notes with a rabbit silhouette.

RABBIT PLASTIC FOLDERS (A5)

■ Gold stamped plastic folders with a rabbit silhouette.

RABBIT CORD CLIPS

■ Genuine Italian and Japanese leather. Made in Japan. Available in four colors.

RABBIT PHOTO ALBUMS

■ Rabbit photo albums from National Geographic Publishing. Comes with an original rabbit postcard.

OCTOPUS KELP ROLLS

■ The area around Rabbit Island is known for its octopus. We dare you to try our local seafood delicacy. It goes well with sake.